POĽANA BIOSPHERE RESERVE

web: chkopolana.sopsr.sk
Year of designation: 1990
Date of extension:  2016


Total area: 24 158.23  ha
Poľana is the highest volcano mountain in Slovakia. The whole range is part of Carpathian arch. There are technophiles as well as mountain plant and animal species on a relatively small area due to its protrusion to south and altitude range of almost 1000 m (the lowest point is 460 m and the highest is 1458 a.s.l.).
Spot height Hrb (1255 a.s.l.), which is at its north edge of Ľubietovský Vepor is geographic centre of Slovakia. A unique geological and geomorphological character of this area is a result of volcanic activity in the period 13 – 15 millions years back. Forests cover 85 % of the area. Large beech forests, fir-beech forests and hillside forest communities are typical for Poľana. They have primeval forest character at places. Areas that were deforested long time ago are represented today by communities of meadows and pastures, which also encompass peat lands and meadows rich in groundwater. Mountainous and sub-alpine species of grass are typical. Rock communities increase overall biodiversity of the area.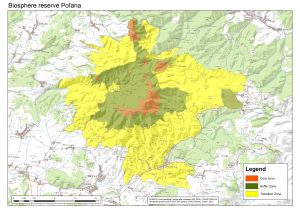 Thanks to high habitat biodiversity the representation of non chordata is very rich as well. Many of them are endemic, rare and threatened. Since 2016 Hriňovské lazy belong to the transition area. It is a mosaic of small strips of land, interlaced by meadows and pastures at former arable land, lanes, sometimes overgrown by hip-roses, sloes and wild cherries. Horses and traditional farming tools are used in this area. Character of this landscape is highlighted by traditional wood houses, barns, potato cellars, painted wooden crosses and other folk art. Scattered settlements were created in Hriňová due to difficult accessibility of arable land.
Spread settlements in the region is one of the most interesting feature of Podpoľanie. The area is known as a mountainous region with many places which were never touched by the hand of collectivisation and managed in traditional ways. Even today, the area is sparsely inhabited with only free villages (Iviny, Snohy, Vrchslatina).
Current area of individual zones in the Poľana Biosphere Reserve: core zone 1332 ha, buffer zone 7930 ha, transition zone 11 098 ha. In 2016, the transition zone of the Poľana Biosphere Reserve was extended by a part of Hriňovské lazy with an area of 2744 ha. The expansion of the transition zone has increased the area of land with permanent grassland.
Conservation function
The core zone consists of 6 natural reserves, which represent the most valuable forest ecosystems in BR Poľana. From the point of view of national legislation, there is a non-intervention regime in which human activities are not allowed, except for hiking and research. In the buffer zone some activities are limited, especially in protected areas with a stricter degree of protection.
In 2015, the document The Care Program for the Poľana Protected Landscape Area was prepared, which deals with setting strategic and operational goals for the conservation of biodiversity in the Poľana Protected Landscape Area. The key ecosystems are forest and herbaceous ecosystems. The main goal is to maintain their favorable condition and ensure the continuity of ongoing processes.
Through the Plan of Main Tasks, the State Nature Conservancy of the Slovak Republic annually and systematically monitors species and habitats. These are mainly species and habitats of European importance, but the Administration – PLA Poľana will also focus on rare or endangered species of national importance. In the Action plan of BR Poľana, specific activities are planned, which are aimed at determining the favorable status of the species and habitats in question:
The Action Plan of BR Poľana include:
– ensure continuous monitoring of species and habitats from the point of view of biodiversity protection
– draw up a local "red list" of species
– set up a system of advisers to help individuals and users access available incentives
– identification and quantification of ecosystem services from the "natural values" portfolio
– develop a program to adapt biodiversity to climate change
Development function
The Poľana Biosphere Reserve has been hiding enormous potential for the development of the area for a long time. Status of  Poľana BR brings new projects not only nationally, but above all abroad. The following development projects were implemented in the area, which brought financial support to the area.
Project of the State Nature Conservancy of the Slovak Republic – Development of nature protection and protected areas in the Slovak Carpathians (Slovak-Swiss financial mechanism) – thanks to the project for the renewed management of mountain and foothill meadows and pastures, landowners development of their activities and not a barrier, as it is not a typical protected area.
Project with State Forest Enterprise – Together for the preservation of natural values ​​in the territory of Poľana (Slovak-Hungarian financial mechanism) – improvement of the management of game in the Poľana Biosphere Reserve and joint quality promotion of natural and cultural values. Thanks to the project, relations with foresters and hunters and conservationists have been strengthened.
Project association PRONATUR: "Nature to people – people to nature" (Slovak-Swiss financial mechanism) – A project that followed the cooperation with Entlebuch Biosphere Reserve (Switzerland). The aim was to implement a participatory management model of Poľana BR. Thanks to it, the Coordination Council of Poľana BR was established, important strategic documents such as Action Plan of BR Poľana, Regional Identity Strategy of Poľana BR, BR Poľana's Added Value were prepared, close cooperation with stakeholders was established, Entlebuch BR visited with the participation of stakeholders from the proposed Hriňovské lazy.
Logistic function
In 2019 The Administration of PLA-BR Poľana was cooperating with association K.O.Z.A. Zvolen in project Young voices from Podpoľanie. The project was focused on increase awarness and soft skills young peopole from Poľana BR from the point of view spending their free time in protected areas and interesting places of Poľana. Aim to analyse their needs and solution how can be fullfil was sucessfull done.
Promotion, improving relations with stakeholders, working with others and young people, partnerships with the media are in recent years and help to solve problems, more often adverse effects. The Adminitration of  PLA-BR Poľana plays a key role in the environment and spreads environmental awareness. In 2012 ecocentre was built at The Adminitration of  PLA-BR Poľana which is the dissemination of environmental awareness. In this case, the The Administration of PLA-BR Poľana already offers various environmental programs.
In 2019 The Administration of PLA-BR Poľana was cooperating with association K.O.Z.A. Zvolen in project Youn voices from Podpoľanie. Project was focused on increasse awerness and soft skills young peopole from Poľana BR from the point of view spendind their free time in proceted areas and interesting places of Poľana.
Campaing and propagacion of BR Poľana
Opening day of BR Poľana – Communication with the public during the Open Day of the Poľana Biosphere Reserve, where stakeholders present their activities in the area in terms of traditional land management, habits and original crafts. The programme provides visitors  a comprehensive picture of the natural, cultural values and traditions of our region.
Become a star  – outdoor meeting wiht young people. Our challenge was to create big constellation "Great bear" with people and lights.  The bear is a typical carnivore in the  Poľana  Biosphere Reserve. During the meeting we were talking with pupils and student about our region and we were trying to use "land art" for language how to speak with them.
Outdoor activities
Important activities to discover Poľana BR and learn about nature and history in each season. The play with practical experience a good feeling is the best way for creating identity and raise awareness of young people. The PLA Poľana Administration has been cooperating with basic  schools in Poľana BR for long time. Employees of State Nature Conservancy Slovak republic with stakeholders provide trips and outdoor activities in small-scale protected areas in Poľana BR and with the ekological plays. The focus (aim) is to show children (geological history of vulcano, fauna, flora, etc.)
Competitions for young people
Queen of Poľana – The one part of the Open Day of Poľana BR is traditional copmetition "Queen of the Poľana". It is about the  challenge to choose women from region who will became personific of rich values of Biosphere Poľana. The competition is not about physical beauty or age or young. It is about the skills, good character and meaning (sense, feeling) for vision and future of region.
Art competition "Around the world with Poľana" – create logo of BR Poľana – Art competition – challenge for young painters and movie makers, who like Poľana BR. Students and pupils created new person/logo for Poľana BR. In competition was joined 108 proposals and 3 movies.
Mentoring of young people
Workshops for few days  –  Workshop with young people how to educate soft skills who is young volunteer is good practise in Poľana BR. Young people are power and strong potential for region Podpoľanie.
Discussion – To talk about power of young voice and how to make good decisions in life is an important a motivation moment for young people.
Students discussed with slovak famouse  actors and  presenters Adela Vincze ank Viktor Vincze at primary school in the town Detva. Discussion took place with famous people (Adela Vincze ank Viktor Vincze) at primary school in the town Detva.
School education
Frequently environmental education at the nurseries (kindregartens), primary schools and secondary schools play an important role in preparing young people how to live in region. Wide spectrum of topics and targets (agriculture, forest, large carnivores,  amphibias, universe,…) tell to children story about value of Biosphere reserve Poľana.
Ecocentrum at PLA Poľana Administration
Nonformal education with young people is providing with outdoor activities in the garden aroud the PLA Poľana Admistration. Garden is live book for environmental education and education play(games). The main goal is to show natural value of Poľana BR and increase the awerness about region.